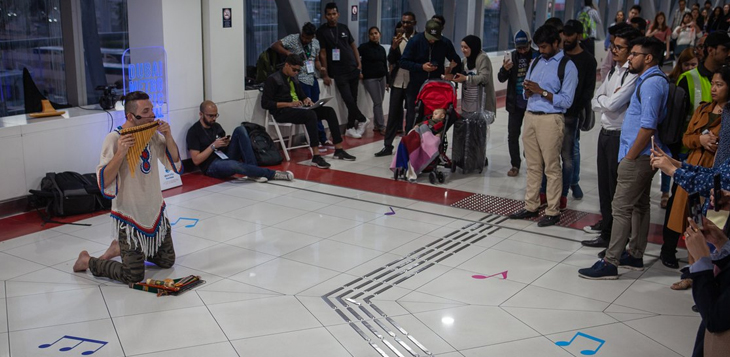 March 20, 2019

An enchanting mix of music from an eclectic line-up of artists featured in the first edition of the Dubai Metro Music Festival continued to the enthrall the city's public. The Festival, which entered its fourth day today, has treated local audiences to a variety of musical forms from countries across the world ranging from Brazil in the west to Indonesia in the east.
Organised by Brand Dubai, the creative arm of the Government of Dubai Media Office, in partnership with the Roads and Transport Authority (RTA), the Dubai Metro Music Festival is being held from 17-23 March at five Dubai Metro stations - Burjuman, Union, DMCC, Mall of the Emirates and Burj Khalifa. The free-to-attend Festival hosts performances by 25 international musicians.
Moses Concas, a harmonica beatboxer from Sardinia, Italy, is playing his unique music that features a combination of influences. Concas experimented for a year in beatbox-harmonica, electronic music and the didgeridoo, before performing his first live gigs in Cagliari in 2011. In 2013, realising that making music was his calling, he traveled through Europe ending up in London, where he resumed his passion for performing as a street artist. In February 2016, Moses decided to participate in the Italy's Got Talent auditions in Rome, and after several challenges, won the first prize of the TV Show. Known in Italy as 'The Miracle Harmonica', he has several albums under his belt.
Massimo Tortella, the Italian musician is presenting his one-man-band-recycled-music-show Porcapizza at the Festival. He plays several instruments created out of recycled objects such as a tennis racket, an old typing machine and telephone, all at the same time. With an ingenious and funny approach, Massimo guides the audience into an alternative musical journey. His spontaneous improvised tracks, original material and selected covers show what can be done when you combine 'out of the box' thinking with a good dose of talent and a burning passion for music.
Russian Alexander Lemeshev is playing the glass harp at the Festival. One of the most famous players of the instrument, not only in Russia, but across the world, the artist has toured many cities of his country and also demonstrated his skills in Italy, Germany, Finland, France, India, Mexico and USA. He has performed in many iconic cultural events.
Michael Gorecki, a 24-year old Polish musician is playing the pan flute, a musical instrument consisting of multiple pipes of gradually increasing length. He fell in love with the pan flute after listening to a musical performance in his younger days. Gorecki has performed at countless concerts mainly in Poland, Germany and Spain. He loves to play old musical pieces like 'Lonely Shepherd', 'El Condor Pasa', and 'The Last of the Mohicans', apart from 'Despacito'.
Indian child prodigy Suleiman is playing the bansuri, a side blown flute originating from the subcontinent. He started capturing the attention of music lovers while performing at the age of five. He first came into the national limelight when he won the Indian classical music talent show 'Naad-Bhed' in 2014. Subsequently, in 2016, he captured the nation`s heart when he was declared the winner of the reality TV talent show India's Got Talent. Suleiman has participated in many concerts in India and abroad, where he performs both Indian classical as well as light classical music. He has been awarded several prestigious Indian national awards.
Borislav Kamenov Valchev, a singer, pianist, trumpetist and composer from Bulgaria is one of the many Dubai-based musicians performing at the Festival. A graduate of the National Music Academy in Sofia, he has performed at festivals in Italy, Spain, France, Germany and Poland. Although he has had a classical music education, jazz is the music that best speaks to him. Valchev was a musical director and pianist of the original project of Claude J. Woods, the Earth Wind and Fire experience. He has performed at many jazz festivals in Europe and at the 2016 and 2017 Dubai Jazz Festivals.
Another Dubai-based musician, Yulia Loseva from Belarus plays the bongos. Addicted to drumming, this percussionist has been performing on stages across the globe for the past five years. She is a top DJ in various venues in Dubai.
Indonesian Adam Kadabra is another musician who has brought his innovative musical style to the Festival. He uses a technique called 'lap tapping' in which he rests the guitar on his lap and powerfully taps the frets and strings to create a captivating music. He created this style after a small accident that fractured one of his fingers, which made it difficult for him to play the guitar in a normal way.
Vineet Narayan is a professional tabla, drum and cajon player from Delhi, India. The Dubai Metro Music festival is the latest stop in his journey across the world, doing what he does best - playing music. Apart from performing at Festivals, he shares his experience with musicians by conducting workshops around the globe. He considers his music as his native language.
Shaima Al Suwaidi, City Branding Manager, Brand Dubai said: "The diverse selection of musicians that Brand Dubai brought together at the Festival are some of the best examples of the incredible creative experimentation taking place today in global music. The unusual instruments and offbeat musical styles featured in the Festival have been a real treat for Dubai audiences. The Festival features a host of musicians from both traditional and non-traditional genres of music."
Rowdah Al Mehrizi, Marketing and Corporate Communication Director of RTA said: "The eclectic music featured in the Festival represents not only Dubai's spirit of inclusiveness but also its passion for supporting creative talent and innovation. Partnering with Brand Dubai to host the Dubai Metro Music Festival is part of RTA's commitment to contributing further towards transforming the city's cultural environment and bringing music and art closer to the community."
The Metro Music Festival is a rich addition to Dubai's busiest cultural season, which also features global events like the Emirates Airline Festival of Literature, Art Dubai, the SIKKA Art Fair and World Art Dubai