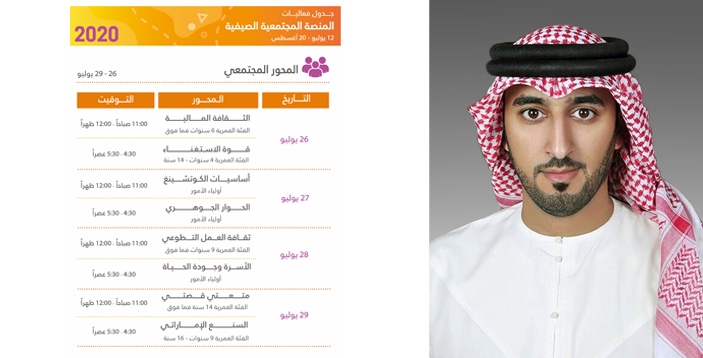 July 25, 2020

The Social Summer Platform at the Ministry of Community Development recorded a large interaction of children, students and parents, within the activities of the industrial and agricultural hubs attracting nearly 1,200 participants in various activities that have been going on in the past two weeks and continuing till 20 August.
About 450 students and participants interacted in the industrial hub last week, with (93) students on the first day, (90) on the second, (102) on the third day and (84) on the fourth day and (80) last Thursday the last day, while the agricultural hub events in the first week attracted about (720) participants from children, students and parents, including people of determination and senior emiratis.
The community hub initiatives will be launched next week (July 26th - August 1st), to include (12) innovative activities targeting 6-years old children, young people, families and senior emiratis. The activities include workshops and motivational development initiatives, such as: financial Culture, achievement challenge on July 26th, basics of coaching, positive education on July 27, volunteering culture, family and wellbeing, on July 28, fun Summer, artificial intelligence on July 29, dispensing power, triple success on July 30, and finally my story, emirati tradition sina'a on August 1st.
Saeed Al Khateri, Director of Social Development Centers at the Ministry of Community Development, said: "The platform attracts large numbers of children and students in specialized and innovative events organized by live broadcasts or recorded programs remotely. The numbers of participants in the hubs' activities that are included in the social summer platform are in fact twice the announced numbers, each family can register once in the workshop and get a single link that allows all the family members the opportunity to participate several times through tablets, this means that the numbers of the workshops' beneficiaries are more than the actual registered numbers".
He said that the opportunity is available for students, parents and various members of the community to access and join programs according to the announced activities as well as dates of workshops and events through the link available on the ministry's website www.mocd.gov.ae or by phone via the ministry's call center (800623). Until now, both agricultural hub and industrial hub have been participated by hundred students and parents, while the community hub will begin this week (26th July-1st August), the sports hub (3-8 August), the recycling hub (9-15 August) and the 50th Challenge Hub (16-20 August).
It is noted that the social summer platform was launched by the Ministry of Community Development beginning of July and included (63) several remote initiatives and activities as part of interactive societal partnership with a number of ministries as well as private sector all over the UAE. The platform targeted children and young people, all under the partnership of "UAE Youth Summer Academy 2020" in cooperation with government, federal authorities and the private sector.