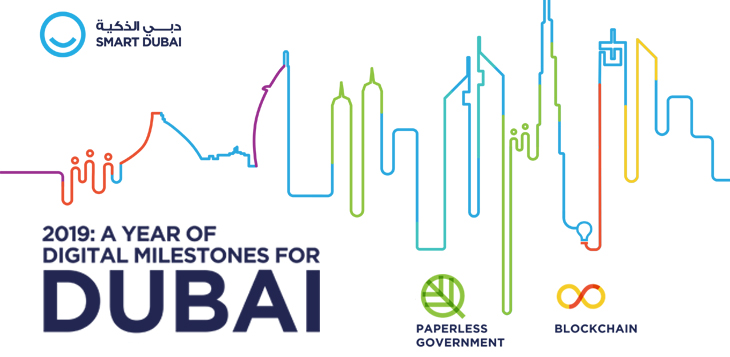 December 15, 2019

Dubai consolidates its reputation as a leading smart city through first-of-their-kind advancements in open data, AI, paperless government and Blockchain.
With a series of remarkable achievements in smart transformation in 2019, Dubai has emerged as the undisputed Digital Capital of the Middle East, a status endorsed by leading global reports on smart cities, Smart Dubai has revealed.
Over the year, the emirate has significantly expanded its technical capabilities and widened its smart transformation efforts to cover all operations and services of Dubai Government. A host of recent global reports have ranked Dubai ahead of major international cities in the field of smart transformation.
His Highness Sheikh Hamdan bin Mohammed bin Rashid Al Maktoum, Crown Prince of Dubai and Chairman of The Executive Council of Dubai, said that all indicators point to the success of Dubai's plans and programmes in smart transformation and validate the steady progress the Dubai government has made in achieving the vision and directives of Vice President and Prime Minister of the UAE and Ruler of Dubai His Highness Sheikh Mohammed bin Rashid Al Maktoum in making Dubai the smartest city globally.
His Highness Sheikh Hamdan said Dubai's government departments and entities are committed to keeping pace with rapid developments in smart technologies and are implementing comprehensive integrated strategies for transformation, guided by a clear vision.
His Highness noted the far-reaching positive impact of smart transformation projects, which includes considerable progress in competitiveness indicators. He stressed that excellence in this field catalyses Dubai's economic and sustainable development objectives and brings significant reduction of operational expenses. It also facilitates more efficient procedures, speeding up the processing of transactions, licenses and contracts for businesses. Additionally, he said the success of Dubai's smart transformation has positively impacted the environment and resource conservation.
His Highness thanked all Dubai government departments and entities that have contributed to making Dubai a leader among the world's smart cities. He praised Smart Dubai's contributions saying: "We are proud of our accomplishments, which would not have been possible without the combined efforts of government entities and the collaborative spirit they have shown in overcoming challenges. We are looking to deepen cooperation between stakeholders to implement new initiatives and projects that can help Dubai consolidate its leadership among global smart cities. I'm confident that we can achieve this goal soon."
Dubai has cemented its reputation as the Digital Capital of the Middle East following the series of remarkable digital transformations it accomplished since the launch of the Smart Dubai initiative in 2015. Dubai is the first city in the region and one of the world's first cities to launch an all-encompassing Smart City Initiative that covers all economic and social sectors. The advances made by Dubai are the result of Smart Dubai's collaboration with partners from the government and private sectors in several fields.
Her Excellency Dr Aisha Bint Butti Bin Bishr, Director General of Smart Dubai, said: "We are nearing the end of yet another remarkable year crowned by many achievements for Dubai. We are proud to stand alongside partners from the government and private sectors as part of an integrated team that made this possible. Four years after the launch of Dubai's smart transformation journey, which was inspired and led by the vision of His Highness Sheikh Mohammed bin Rashid Al Maktoum, Vice President and Prime Minister of the UAE, Ruler of Dubai, and following the directives of HH Sheikh Hamdan bin Mohammed bin Rashid Al Maktoum, Crown Prince of Dubai and Chairman of The Executive Council of Dubai, we have made significant strides at local and global levels and established Dubai as the Digital Capital of the Middle East."
"Our ambition is not limited to being a regional leader but also includes becoming number one internationally, in line with our leadership's vision to establish not only Dubai but also the UAE as a global leader in government excellence that places people's wellbeing at the centre of its efforts," Her Excellency Dr Aisha added.
According to the World Competitiveness Center of the International Institute for Management Development (IMD), one of the largest academic bodies specialised in this field worldwide, Dubai topped the MENA region in the "Smart Cities Index 2019". The Index issued in October 2019, which evaluated 102 cities, ranked Dubai ahead of many major cities such as Paris, Rome, Brussels, Tokyo and Beijing.
In February, Dubai also led the MENA region in the Smart Cities Index 2019 issued by the University of Glasgow. The Index ranked Dubai 14th among 27 cities, ahead of major global cities such as Los Angeles, Stockholm, Melbourne, Tokyo, Vancouver, Vienna, Shanghai, Copenhagen, Beijing and Brussels.
Paperless Government
In October, His Highness Sheikh Hamdan bin Mohammed bin Rashid Al Maktoum issued directives to all government entities to work with Smart Dubai and ensure all digital government consumer services are delivered via DubaiNow, gradually eliminating all individual entity applications. The move was in line with the Dubai Government's objective of becoming 100% paperless by December 12, 2021.
The Dubai Paperless Strategy saw the digitisation of customer facing and inter-government transactions within 19 government entities, cutting the city's paper consumption by around 158 million papers leading to savings of AED684 million and an environmental impact equal to saving over 19,000 trees. As of the beginning of October 2019, the number of smart services provided through the DubaiNow application has reached 88 services from 30 participating entities.
Ethical Artificial Intelligence
Dubai was the first in the Middle East and one of the first globally to launch an Artificial Intelligence (AI) strategy. It also launched an AI Lab through which government entities collaborate with Smart Dubai to identify and develop use cases for AI implementation across all industry sectors.
Dubai became a regional pioneer in developing ethical guidelines for the development of AI solutions when it launched an Ethical AI Toolkit. Dubai also became the first city globally to develop a self-assessment tool for AI principles and guidelines. Furthermore, the city was the first to launch an AI Ethics Board, which brought together leading local and international industry experts from the government and private sectors to continually enhance the Ethical AI Toolkit and expedite its city-wide implementation.
Working with 10 government entities, the emirate has identified 43 possible use cases of AI that are being built into Proof of Concepts and Pilots.
The World's First-of-its-kind Data Initiative
Complementing its initiatives to establish itself as the Middle East's Digital Capital, Dubai launched innovative and comprehensive data initiatives. It became the first in the region to issue Data Laws and Policies for the sharing of data among government entities and will soon launch polices for private sector data exchange. Dubai also established the Smart Dubai Data entity, a body that is responsible for building and overseeing the data economy of Dubai – including legislations, policies, data classification, data exchange mechanisms and more.
Dubai also launched Dubai Pulse, a platform hosting aggregated and anonymised government datasets which can be accessed by anyone across the globe. The platform has recorded over 2 million visits so far.
Furthermore, Dubai became the first city in the Middle East to issue a report on the economic impact of open and shared data. According to the report, open and shared data networks across Dubai's public and private sectors will lead to a spike in the gross value added to the emirate's GDP by AED10.4 billion per annum after 2021. The report also revealed that publishing government data alone would yield around AED6.6 billion per annum in added value after 2021, amounting to 0.8-1.2% of the emirate's projected GDP after 2021.
Global Blockchain Capital
Dubai also became a pioneer in implementing Blockchain technology in line with the vision of HH Sheikh Hamdan bin Mohammed bin Rashid Al Maktoum. It was the first city in the world to launch a Blockchain strategy and announce it will be integrating government transactions through Blockchain networks by 2020, a move that is set to make it the world's Blockchain capital.
A global trailblazer in Blockchain implementation, Dubai launched the Dubai Blockchain Policy through its Dubai Future Council for Blockchain during the ninth Smart City Expo World Congress held in Barcelona in November 2019. These policies will help accelerate city-wide implementation of Blockchain.
Through a collaboration between Smart Dubai and its government and private partners, Dubai is currently implementing 26 use cases for Blockchain across the emirate.
Global Network to Support Smart City Transformation
The first-of-its-kind both regionally and globally, the Smart Dubai Global Network currently has 490 members of smart-city stakeholders, including industry leaders and experts. The Global Network aims to enable the worldwide exchange of knowledge and expertise on smart city development, which can empower cities to achieve smart transformation.
Several government entities in Dubai have made significant achievements in the field of smart transformation. Dubai Police, for example, earned a Guinness World Record title for its Drive-Thru Smart Police Station, which is the first police station of its kind in the world to operate without human intervention and provide all services via smart applications round the clock.