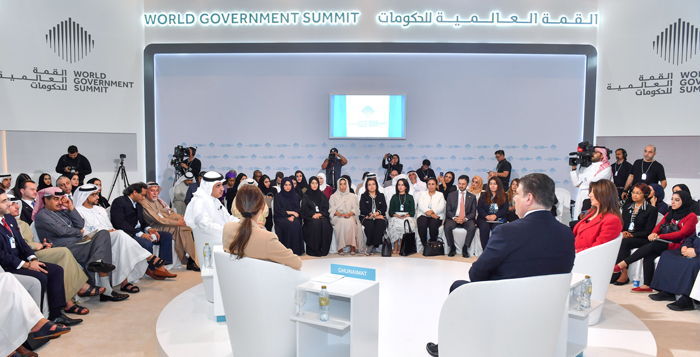 February 11, 2019

The Future of Government Communication Forum, taking place at the World Government Summit being held in Dubai from 10-12 February, discussed the best ways to regain the public's trust in state media outlets.
Panelists at the session titled 'Future of Government Communications' included Ali bin Mohammed Al Romaihi, Information Affairs Minister, Kingdom of Bahrain; Jumana Ghunaimat, Minister of State of Media Affairs, Hashemite Kingdom of Jordan; and Hussein Zein, Head of the National Media Authority, Arab Republic of Egypt.
Al-Romaihi said that regaining the trust of the public is key at a time when there is easy access to information. "However, the challenge is whether the audience will believe and trust us. Regaining and enhancing trust in state media outlets cannot be achieved unless the official in charge truly believes in transparency and effective communication," Al-Romaihi said. "Vice President and Prime Minister of the UAE and Ruler of Dubai His Highness Sheikh Mohammed bin Rashid Al Maktoum is a true example of a leader who believes in effective government communications. It is a culture that governments need to promote," he said.
In addition to regaining the trust of the public, ensuring transparency, accuracy and clarity while delivering government messages is also important, especially as the audience is skeptical about government-owned media. "State media outlets should ensure professionalism while delivering their messages, rather than focusing on speed," Ghunaimat said.
Building awareness about issues concerning the accuracy of news content among audiences is critical. Awareness enables them to contribute to the fight against fake news. "The most dangerous person in social media is not the one who publishes fake news, but the one who shares it, because the real enemy now attacks people's beliefs by raising questions about true facts and stories," said Zein.
The rise of social media has led governments to introduce new regulations and legislations to regulate the use of social media platforms. "This has raised questions about the real reasons behind these regulations, and whether they are aimed at censoring freedom of speech or addressing the negative aspects," Ghunaimat said. "People these days tend to publish and share negative posts, instead of focusing on promoting positive values. That's why we need regulations to combat the spread of fake news and promote awareness about the dangers of spreading rumours and fake news," she added.
Easy access to information and the proliferation of social media platforms have posed more challenges for government communications. "In Jordan, we are working on introducing media in local school and university curriculums, and teaching students about social media 'etiquette' and what's good and what's bad," Ghunaimat added.
-End-
About the World Government Summit
The World Government Summit organization is the primary global forum dedicated to shaping the future of governments worldwide. It takes place in February of every year in Dubai, UAE, bringing together prominent leaders from the public and private sectors, as well as scientists, authors, and entrepreneurs to engage in future-focused dialogues. The Summit showcases the latest innovations and best policies worldwide, with the goal of helping the next generation of governments harness technology and prepare for the rapidly changing political and economic landscapes, ultimately improving the lives of citizens across the world.