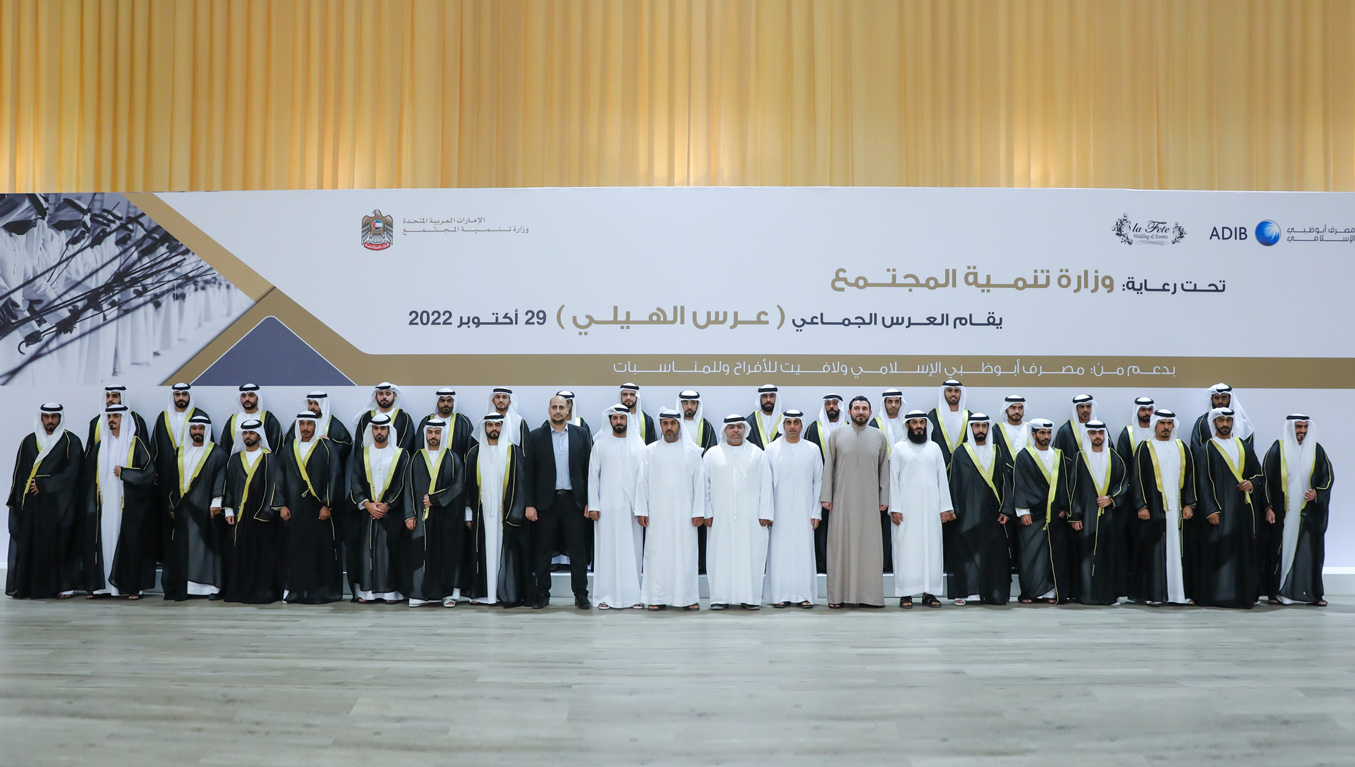 November 7, 2022

The Ministry of Community Development organized a mass wedding in Al Hili at Al Ain City, with the participation of (40) young Emirati grooms who meet the participation conditions in mass weddings organized by the Ministry throughout the year.
Supported by Abu Dhabi Islamic Bank and Lafete Weddings & Events, the wedding was attended by a large number of the grooms' families and friends, as well as supporters and organizers of the wedding.
Wahida Khalil, Director of Marriage Grants in the Ministry of Community Development said: "The Ministry makes great efforts to ensure that a large number of grooms participate in these mass weddings; such social values embody and support the vision of the leadership for these weddings to enhance family cohesion and community coherence in the UAE, and also reflect the most eloquent forms of solidarity and community participation. Mass weddings alleviate the financial burden and encourages them to achieve their dreams and establish families, thus at the same time promote their psychological, social and economic stability.
She also emphasized the keenness on organizing more mass weddings on an annual basis bringing together increasing numbers of young grooms and brides from all over the UAE in support and sponsorship of the ministry's partners. The ministry's mass weddings reflect the achievement of community partnership from the private sector in an effort to organize more mass weddings that revive parents and grandparents' approach and enhance the values and traditions inherited in the UAE society.
The Ministry of Community Development consolidate the culture of mass weddings as a societal phenomenon that witness an increasing participation of young grooms and brides, it is also very keen to encourage and attract more Emiratis to join these weddings in order to save their financial expenses and other requirements; the mass weddings support young citizens to build a better future and meet their aspirations to establish stable and happy families.
The Ministry calls all young citizens to take advantage of the mass weddings by registering for the service through the website: www.mocd.gov.ae all those who meet the conditions can participate in other mass weddings organized throughout the year.