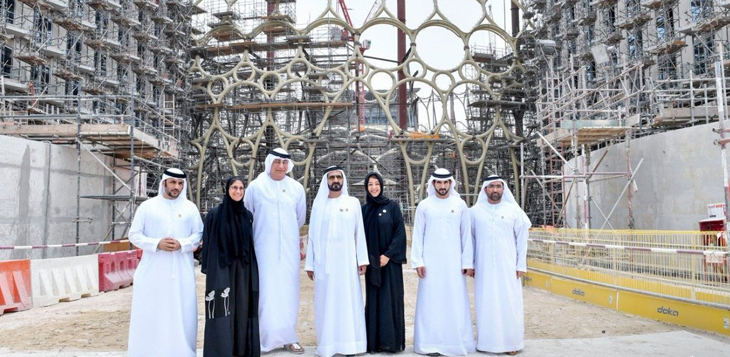 August 13, 2019

The Vice President and Prime Minister of the UAE and Ruler of Dubai His Highness Sheikh Mohammed bin Rashid Al Maktoum inspected work progress at the Expo 2020 site, which opens doors during October 2020 with pavilions representing 95 countries.
Accompanying H.H. Sheikh Mohammed bin Rashid on his tour were the Dubai Crown Prince H.H. Sheikh Hamdan bin Mohammed bin Rashid Al Maktoum and the Director General of Dubai's Department of Protocol and Hospitality H.E. Khalifa Saeed Sulaiman.

Upon their arrival, H.E. Reem Ebrahim Al Hashimi, Minister of State for International Cooperation and Director General of Dubai Expo 2020 Bureau, and senior Expo staff welcomed H.H. Sheikh Mohammed bin Rashid and presented a briefing on work progress and plans to welcome more than 25 million local and international visitors.

Al Hashimi also presented an overview of different pavilions participating in the grand global gathering including the UAE pavilion, which draws its architectural vibes from authentic Emirati heritage. Her Excellency also touched on promotional efforts to spread knowledge about Expo 2020 locally and abroad.

H.H. Sheikh Mohammed bin Rashid underlined the importance of intensifying efforts to make this world gathering a success that reflects the progressive development of the UAE. He also thanked the Expo 2020 team members who work tirelessly to ensure a success worthy of the grand event.