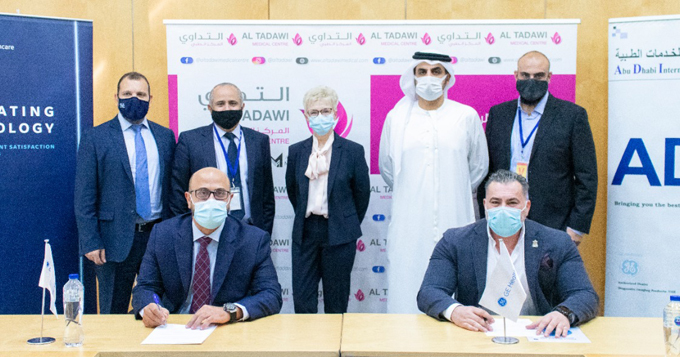 January 14, 2021

New hospital is expected to open later in 2021
Strategic partnership will see Al Tadawi leverage the latest healthcare technology innovations to provide the highest standard of medical services
GE Healthcare and its partner Abu Dhabi International Medical Services (ADI) today signed an agreement with Al Tadawi Healthcare Group, which will see GE's most advanced critical care, ultrasound and diagnostic imaging equipment installed at the group's first hospital in Dubai.
Located in Umm Rammool, Al Tadawi Healthcare Group's hospital will offer medical facilities in a wide range of clinical specialties including major outpatient clinics. The 100-bed hospital seeks to contribute to the Dubai Health Authority's efforts to further develop healthcare facilities across the Emirate.

Set to open later this year, the hospital will be equipped with high-end critical care, ultrasound and imaging equipment provided exclusively by GE Healthcare and ADI. In the coming months. GE Healthcare and ADI will also support the Group in expanding the expertise offered at the hospital by drawing on the advanced healthcare equipment provided, which can be upgraded to match their evolving needs. Al Tadawi's clinicians will also be supported 24-7 by the specialist on-the-ground service and application teams of GE Healthcare and ADI.
The agreement was signed in the presence of Marwan Ibrahim Haji Nasser, Chairman & Managing Director of Al Tadawi Healthcare Group; Catherine Estrampes, President & CEO, GE Healthcare EMEA; Amer Qaqish, CEO, Ittihad International Investment LLC; Dr. Haidar Al Zubaidy, Chief Medical Officer, Al Tadawi Healthcare Group; Nael Dabbagh, General Manager, MENEAT, GE Healthcare; and Tamer Akl, Managing Director MedIn of ADI.
Commenting on the agreement, Marwan Ibrahim Haji Nasser said: "Our single-minded focus is on supporting healthy communities by striving for excellence in everything we do. Al Tadawi's world-class team of medical professionals and patient-first approach, combined with the high-end technology provided by GE Healthcare, a differentiating strength of our first hospital, will enable us to achieve the highest levels of efficiency and accuracy in diagnosis. These advantages will enable us to deliver better patient outcomes."
Dr. Haidar Al Zubaidy added: "We are pleased to cooperate with GE & ADI through this agreement, which provides an important model for constructive partnerships. We are confident that the outsourcing of advanced medical devices in conjunction with the development of capabilities within the country will greatly contribute to the efforts of the Dubai Health Authority to develop the health system and improve the results achieved for patients in the country.
Nael Dabbagh said: "Al Tadawi Healthcare Group has outlined a clear vision to develop one of the best hospitals in the region and is well on its way to making this a reality. They have brought together a renowned team of experts, announced a strategic partnership with one of Israel's top healthcare providers, and invested in the most advanced medical equipment in the market. We are proud to partner with Al Tadawi and support them in delivering the highest quality of care possible."
Tamer Akl commented: "We are thrilled to work with Al Tadawi Healthcare Group and support them with their first landmark hospital project in Umm Rammool. The equipment we will be delivering has been carefully selected by Al Tadawi's team of experts and is designed to meet the growing demand for high quality healthcare in key specialties in Dubai and beyond. This project is only the first of what we expect will be many growth opportunities for ADI and Al Tadawi in the UAE and beyond."
In December, Al Tadawi Healthcare Group announced a strategic partnership with Israel's Sheba Medical Center, the first of its kind between an Israeli and UAE healthcare provider. The partnership will see Sheba Medical Center becoming the first hospital from Israel to provide medical services in Dubai, through a collaboration with Al Tadawi Healthcare Group to offer both on-site and remote telemedicine treatments and consultations. All of GE Healthcare's equipment at Al Tadawi has been enabled for remote connectivity, which will help Al Tadawi and Sheba Medical Center leverage the latest technologies, improve clinical outcomes and drive patient and physician satisfaction.
Al Tadawi focuses on providing personalised attentive care in state-of-the-art medical facilities and offering the very best care for patients by drawing on world-class medical techniques. Its strategic objective is to ensure excellence in all healthcare services and combine its strengths with other public and private hospitals to promote Dubai as a globally recognised healthcare destination. GE Healthcare and ADI have a strong history of supporting public and private sector hospitals in the UAE with advanced medical equipment and specialised training.