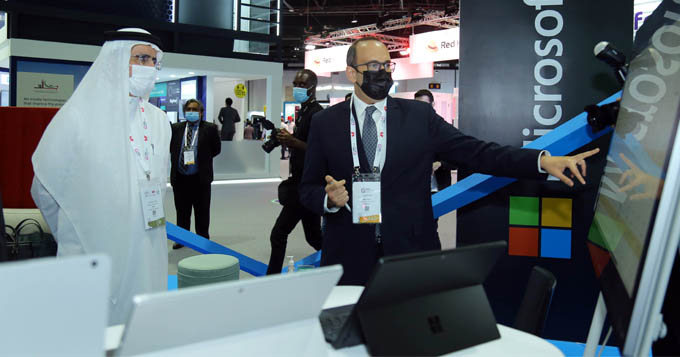 December 13, 2020

HE Saeed Mohammed Al Tayer, MD and CEO of Dubai Electricity and Water Authority (DEWA), met with several officials from local and international organisations participating in the 40th GITEX Technology Week. They discussed ways to enhance cooperation, especially in leveraging modern technologies in the energy and water sectors.
Al Tayer met HE Hamad Obaid Al Mansoori, Director-General of the Telecommunications Regulatory Authority (TRA) and Head of the UAE Digital Government. The two sides discussed the role of the digital government in achieving a more agile and resilient government through strategies, based on innovation and future foresight, as well as developing smart services and make them more efficient and diversified. They also discussed DEWA's efforts in using the Fourth Industrial Revolution applications such as artificial intelligence, robotics and cloud platforms in its projects and initiatives.
Al Tayer met with Sayed Hashish, Regional General Manager of Microsoft Gulf, enhancing the strategic partnership between DEWA and Microsoft. The two organisations are working together to develop new quantum-based solutions to address energy optimisation and conservation. DEWA is the first utility worldwide and the first organisation outside the US to participate in the Microsoft Quantum programme. DEWA works with Microsoft to provide a wide range of cloud services in the UAE. These include smart city services, smart buildings, energy management, monitoring, and others through the Smart Cities Command and Control Centre of Moro Hub (Data Hub Integrated Solutions), a wholly-owned subsidiary of DEWA.
Al Tayer met Charles Yang, President of Huawei Middle East, to enhance strategic cooperation between the two organisations. DEWA and Huawei are cooperating to launch the multi-tenant Huawei Cloud Stack for the first time in the UAE. It is hosted at Moro's Green Data Centre, the first of its kind in the Middle East. The new developer-friendly, secure, and resilient cloud platform provides a range of futuristic managed cloud services with multi-availability zones while contributing to the sustainability objectives of governments and Enterprises.
Al Tayer also met with Farid Faraidooni, Chief of New Business and Innovation Officer at Emirates Integrated Telecommunications Company (du). The two sides discussed 5G services that achieve the goals of the smart city, the Internet of things, big data and artificial intelligence.
DEWA is participating in GITEX Technology Week, which runs until 10 December 2020 at the Dubai World Trade Centre. Through its stand at S2-D1 at Sheikh Saeed Hall, DEWA is presenting its key projects, including its smart and innovative services, robots, digital transformation, automation and cloud computing projects.