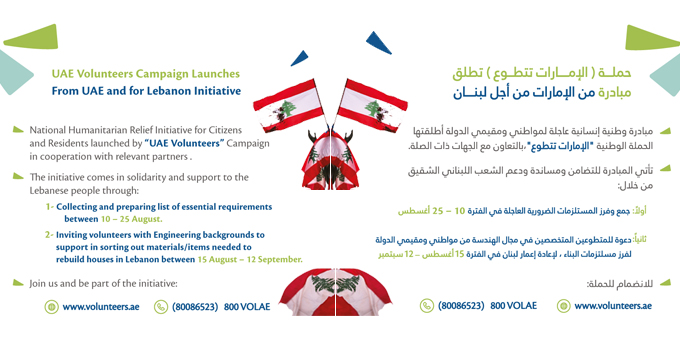 August 11, 2020

-essential supplies and manpower in phase I
-Emirati and UAE Resident Engineers invited to urgently volunteer and supply reconstruction materials to rebuild Lebanon
The "UAE Volunteers" campaign launched an urgent national humanitarian initiative for Emiratis and residents of the UAE called "From UAE and For Lebanon" in collaboration with relevant authorities as part of the UAE solidarity and support to the Lebanese people and express solidarity to mitigate the aftermath of the devastating explosion that affected several people, families and homes.
The initiatives comes in solidarity with the Lebanese people, because of the losses suffered after the massive explosion of the Port of Beirut, affecting families and leaving homes in rubbles; we through the UAE Volunteers Campaign, call for an urgent humanitarian aid for all Emiratis and UAE residents to volunteer and support the Lebanese by registering in the national volunteering platform "volunteers.ae". the volunteering assigned tasks between 10 - 25 August include the collection of essential supplies for the Lebanese people.
Specialized volunteers in Engineering field
The initiative also calls all Emirati and residents engineering professionals, to volunteer and enhance their specialized role to supply the material needed to rebuild Lebanon in coordination with relevant authorities and volunteers in Lebanon between "15 Augst-12 September". The initiative "From UAE and For Lebanon" will provide integrated and urgent support to the Lebanese people in accordance with the main priorities and needs such as medical supplies, food and other urgent necessities provided through follow-up and coordination with the relevant authorities in the UAE and in Lebanon. All urgent requirements will be provided urgently to reduce the impact of the current situation on those affected.
It is worth mentioning to know that the "UAE Volunteers" Campaign has been launched by the Higher National Committee for Regulating Volunteering during Crisis last April in collaboration with the Ministry of Community Development, Emirates Foundation under the supervision of the National Emergency, Crisis and Disasters Management Authority (NCEMA). The campaign's aims at unifying volunteer activities at the national level, promoting integration and cooperation between governmental and private sectors, encouraging community participation and solidarity, and supporting national efforts to combat the spread of COVID-19.
The national campaign aims to support volunteer efforts at the national level and harness the expertise, skills and talents of community members and involve them in the volunteering process. Two types of volunteering are available: field and virtual, as part of a fully integrated and sustainable portal for volunteering across the country during times of crisis.
The volunteers.ae platform allows all Emiratis and UAE residents to participate and initiatively support the campaign either in the field or virtual volutneering. The UAE volunteers campaign can be reached at: www.volunteers.ae , or by calling 800 - VOLAE (80086523), or e-mailing: info@volunteers.ae.