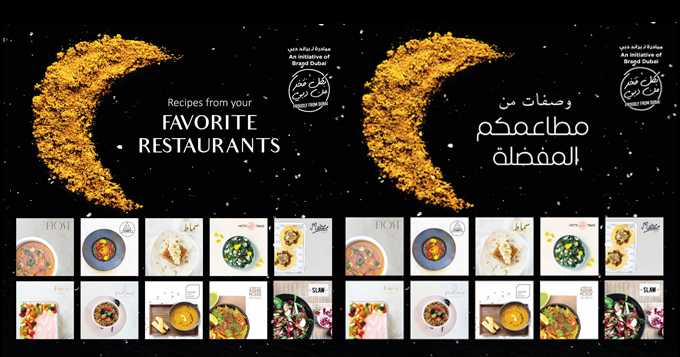 May 4, 2021

Initiative aims to raise the visibility of homegrown businesses among the public
Brand Dubai, the creative arm of the Government of Dubai Media Office, has partnered with several restaurants and cafes from its 'Proudly from Dubai' network to bring 30 unique recipes to people's homes this Ramadan and Eid.
Brand Dubai has collected and curated unique simple-to-prepare recipes from 10 participating outlets with the objective of raising the visibility of the homegrown businesses among the public. The collaborative initiative gives people a chance to hone their culinary prowess by recreating unique dishes inspired by menus from Dubai's most talked-about restaurants.
Shaima Al Suwaidi, City Branding Manager at Brand Dubai, said: "Brand Dubai is collaborating once again with some of Dubai's most exciting restaurants and cafes to bring 30 unique Ramadan recipes that can be easily prepared at home. The recipes provide a detailed step-by-step guide for whipping up delectable dishes for the family, including starter plates, soups, salads, main courses, burgers, desserts, smoothies and Suhoor meals."
Al Suwaidi added that online grocery marketplace elGrocer is supporting the initiative by making all the recipes available on the elGrocer app. Each recipe carries hyperlinks for procuring the ingredients that enable people to easily add items to their online shopping carts and have them instantly home delivered. The recipes will be live on the platform for an entire year.
"Many of the selected dishes are distinctive concepts that can be found on restaurant and café menus, while others are inspired by similar dishes served at the outlets. Apart from inspiring culinary creativity, the initiative aims to encourage the public to visit these restaurants and cafes," Al Suwaidi said.
Fatma Almulla, City Branding Executive at Brand Dubai, said, "Several of the recipes are fresh innovative concepts that represent a modern take on traditional dishes. Appealing to a wide range of palates, the recipes are inspired by an eclectic diversity of cuisines including Mediterranean, Arab, Mexican, Indian, French and Italian. Combining nutritious ingredients and superfoods such as dates, nuts, fruit, yoghurt and vegetables, the dishes offer a healthy fare," she said.
Outlets participating in the initiative include: Around the Block; Hapi; Karak House; Mitts & Trays; The Host; Parlour Boutique; Maiz Tacos; Smat; Two at Symphony and Slaw.
Participating entrepreneurs said they are excited to take part in the initiative and have an opportunity to share some of their best gourmet creations with Dubai's food-loving public. Brand Dubai's support has enabled them to connect with their customers in innovative ways, they said.
'Proudly from Dubai' is an initiative of Brand Dubai that aims to tell local and global audiences the success stories of exciting and innovative businesses that were born and initiated in the emirate. It also seeks to tell the story of innovation and creativity shaping Dubai's emerging business and entrepreneurial culture.