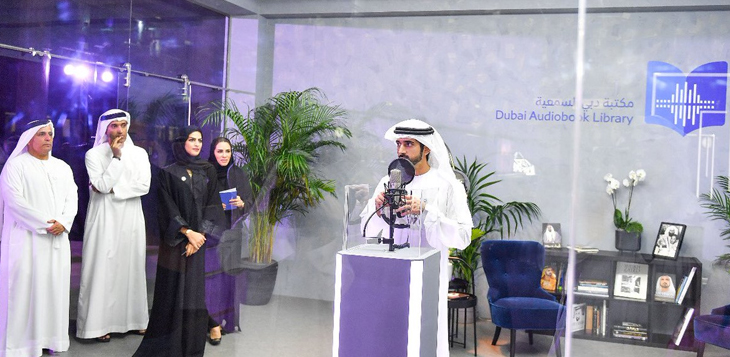 December 6, 2018

Thursday, December 06, 2018

His Highness Sheikh Hamdan bin Mohammed bin Rashid Al Maktoum, Crown Prince of Dubai and Chairman of The Executive Council of Dubai, has launched the Dubai Audio Library, the largest Arabic audio library in the world.

The library, which targets seven million visually impaired people in the Arab world, is an initiative undertaken by the RTA in collaboration with the website Bookshare.org. The launch of the initiative coincides with International Volunteers Day.

HE Mattar Al Tayer, Director General and Chairman of the Board of Executive Directors of the RTA; and HE Abdullah Al Basti, Secretary General of The Executive Council of Dubai, attended the inauguration of the library.

His Highness marked the launch by uploading the first book to the Dubai Audio Library. Zayed Diwan, a collection of 87 poems written by HH Sheikh Mohammed bin Rashid Al Maktoum, Vice President and Prime Minister of the UAE and Ruler of Dubai, was the first book to be uploaded. The collection features 87 poems that pay tribute to the late Sheikh Zayed bin Sultan Al Nahyan (Sheikh Zayed passed away at the age of 87).

The Dubai Audio Library supports the Day for Dubai initiative, which seeks to instill a culture of volunteering in the community by dedicating at least a day a year for volunteering activities. The library is part of RTA's efforts to support People of Determination by spreading a culture of reading among them, and integrating them into the community. The RTA is seeking to provide 300,000 books in Arabic. More than 10,000 volunteers will convert Arabic books into digital format using OCR scanners and edit them before uploading them to the website.

The Library is a volunteering platform for supporting seven million visually-challenged Arabs. The Bookshare.org website has 600,000 books in English, but only 300 Arabic books. RTA is seeking to increase the number of Arabic audio books on the website to 300,000. To achieve this, RTA will collaborate with various organisations including Arab publishing houses and get their consent for uploading Arabic books to the website for the benefit of visually impaired people.

Volunteers can contribute to the initiative in two ways. The first is scanning pages of books and uploading them. The second is proof-reading books in their digital format before uploading them. Selected books will be on the topics of positive ideas, confidence building, determination in coping with life challenges, and enhancing imagination.