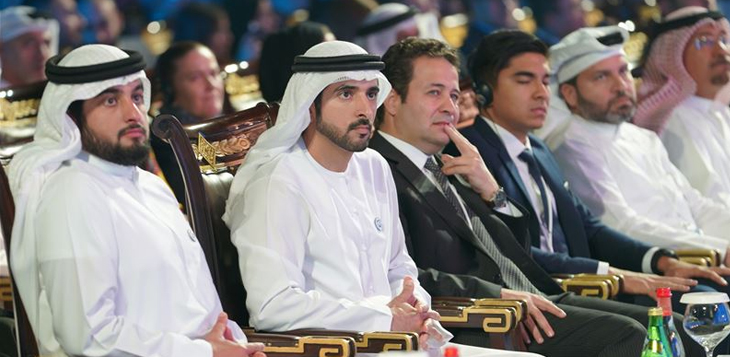 December 5, 2018

Wednesday, December 05, 2018

Under the patronage of His Highness Sheikh Mohammed bin Rashid Al Maktoum, Vice President, Prime Minister of the UAE and Ruler of Dubai, the 5th edition of The Knowledge Summit 2018 started today in the presence of Dubai Crown Prince HH Sheikh Hamdan bin Mohammed bin Rashid Al Maktoum, and Chairman of the Mohammed bin Rashid Al Maktoum Foundation His Highness Sheikh Ahmed bin Mohammed bin Rashid Al Maktoum.

The opening session was also attended by Minister of Cabinet Affairs and The Future Mohammed Abdullah Al Gergawi; Cabinet Member and Minister of Health and Prevention H.E. Abdul Rahman Al Owais, and Minister of State for Artificial Intelligence Omar Al Olama.

The Knowledge Summit's sessions and discussions are in sync with the UAE's vision to build a competitive economy that invests in knowledge, supports innovation and creativity, and works to implement the objectives of the UAE National Agenda for Youth, which seeks to empower young people and offer them opportunities to utilise their capacities and potential to serve their communities and drive sustainable development.

The 2018 Summit explores the effects of various topics on the youth and the knowledge economy, as well as ways to transform societies from being knowledge consumers to becoming knowledge producers.

Jamal bin Huwaireb, CEO of the MBRF, noted that illiteracy has been exacerbated in the last few years by the tensions and violence plaguing several countries in the region. Bin Huwaireb added: "The UAE has always been and will always remain a pioneer in launching and implementing grand projects to combat illiteracy.

Sheikh Hamdan also honoured the winners of the Mohammed bin Rashid Al Maktoum Knowledge Award, that include prominent individuals and leading organisations around the world, whose achievements have inspired humanity in various sectors. His Highness welcomed participants of the Summit adding that the UAE is taking steady steps towards doubling its investments in sciences, technology and AI sectors, as it strongly believe that knowledge is the key for everything, adding that youth are the one who carry this torch, which lights the paths of successive generations towards glory, civilizational and human development. "We want our country to be proud of science and knowledge and to have a civilized and humane dimension throughout the world, and always reward innovators in various fields of science, knowledge, culture and economy, that contribute to making the future promising and appropriate for successive generations in our country and the world," His Highness said.

The award recognises accomplishments made in the fields of scientific research, breakthrough inventions, and the development of educational and cultural institutions, in addition to successes achieved in the printing, publishing and content development sector, all of which have effected positive change in societies and promoted the exchange of knowledge.

Launched in 2014, the US$1 million Mohammed bin Rashid Al Maktoum Knowledge Award seeks to build a robust knowledge economy by stimulating creativity and innovation and celebrating knowledge and entrepreneurship across various fields. Its categories cover a wide array of subjects related to knowledge, development, innovation, entrepreneurship, information and communication technologies, printing and publishing, and digital publishing, among others.