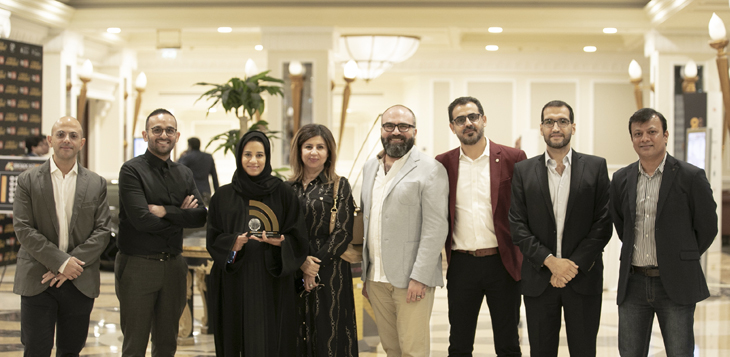 November 17, 2019

· Ahmed Saeed Al Mansouri: A renewed breakthrough to provide outstanding digital media services
· Heba Al Samt: AWAAN continues its progress and development in the field of broadcasting and digital content
Dubai: November 16, 2019 - In a gala ceremony, attended by top media companies in the MENA, AWAAN Digital Platform & Appwon the Broadcast Pro Middle East Award 2019, for Best Video Initiative on Social Media Platforms. Nearly 50 companies have made the shortlists across 12 categories from a total of 140 plus submissions. This year's awards have a greater digital slant to reflect industry trends.
Hiba Al Samt, Director of Digital Media Dep't at Dubai Media Incorporated, received the trophy at the Al Habtoor Grand Hotel in Dubai, last week, in the presence of a number of media industry makers in the Arab world, senior executives and major TV channels and production companies in the Arab world and MENA region.
Distinctive Services
Ahmed Saeed Al Mansouri, CEO of Radio and TV Sector at Dubai Media Incorporated, said: "Winning this award is a culmination of the efforts of the Digital Media Department team and a renewed breakthrough in providing distinguished media services that contribute to presenting the true image of the UAE media, and what UAE media organizations achieved in terms of form and content and a true translation of the methodology of creativity, which will remain a milestone distinguish us".
Al Mansouri expressed happiness and congratulations to DMI's Digital Media Dept. and AWAAN team for the great effort and creativity led to winning this prestigious award.
Al Mansouri also thanked all the sponsors of the Broadcast Pro Middle East Summit and Awards, launched 9 years ago in partnership with the Arab Broadcasting Union (ASBU), with the aim of adopting the highest technical standards in the radio and TV field and encouraging participation to include the entire Arab region while ensuring transparency and efficiency in the selection of winners relying on quality standards applied in radio and TV sector worldwide, in addition to the expansion of knowledge networks and the organisation of forums and provide rewards by leading industry officials and government officials in the Arab region, creating unique opportunities for the most successful business produced in the Middle East and to celebrate their achievements.
Latest Technologies
Heba Al Samt, Director of Digital Media Department in DMI, pointed to the success of AWAAN Digital Platform & App experience and its unique ability in a short time to achieve a remarkable development in VOD service, where the Digital Media Department adapting to the requirements of the database of followers and viewers, analyzing their feedback and utilizing the team capabilities to score an outstanding achievement in order to upgrade this platform to become a leading platform in terms of further development of entertainment content accompanied by the development of playback technology and online broadcasting, to provide our viewers with an opportunity to enjoy a variety of digital services that include: live broadcast, and Catch-Up TV with its first of its kind in the Arab world interactive features, that allows to re-watch and listen to what was broadcast during the past 48 hours.
Largest Digital Library
Heba Al Samt confirmed that AWAAN Digital Platform & App is the largest digital library for local and Arab media in the Middle East, providing the Arab audience with free viewing and listening experience through its variety of high quality digital services, and is the largest OTT platform in the Middle East, contains over 100,000 hours of video and audio files featuring the best technologies, smart & digital services, and flexible design that responds to all browsers, on all devices, whether desktop, smart device and tablet, starting from smart phones (iOS and Android operating systems), through smart TV broadcasting systems (Samsung Smart TV, Humax, Google Chromecast and other digital platforms and applications, while AWAAN is the first video platform available on Apple Smartwatch.
The numbers of views reached 23,295.414 follow-up and digital viewing over the first half of 2019, while the number of permanent loyal followers of AWAAN is more than 15,573.599 in 220 countries .. This is the first of its kind in the Arab world and the Middle East, Heba added.