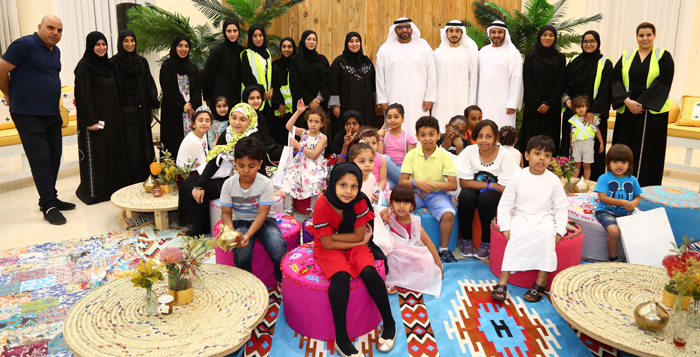 May 21, 2019

The senior management and staff of the Ministry of Community Development joined children orphans and senior emiratis and volunteers in an iftar gathering organized by the Ministry as part of the Orphan Day in the Islamic World. Held at the Customers Happiness Center in Ajman in cooperation with the National Volunteering Platform "volunteers.ae", UAE Red Crescent, Sharjah Archeological Museum, Royati Family Society, Majid Channel and Hershey Company. The number of participating orphans was (50) children from different expatriate nationalities in the UAE and (20) senior emiratis.
The Orphan Day in the Islamic World coincides with 15th of the holy month of Ramadan and Year of Tolerance 2019, it is celebrated by all the UAE entities to affirm the value of orphans in the community and assure the keenness of the UAE government to provide all categories of the community especially children with decent life and ensure that they have an active life in the community.
Eman Hareb, Director of Family Protection Department at the Ministry of Community Development, stated that the Orphan Day in the Islamic World is an occasion to engage the community in meaningful events that promote community solidarity and cohesion during the holy month. She also noted that the activities carried out on this occasion aimed for instilling joy and happiness in the hearts of the orphans, raising their self-esteem, and discovering their abilities through useful and entertaining workshops, games and activities and activating the role of the ministry's strategic partners and registered volunteers in the volunteering platform "volunteers.ae" in the organization of the event to draw happiness in the faces of these children.
She also emphasized that the activities involving children and adults demonstrate the societal responsibility towards all entities, and activates societal role and initiatives to involve children in such targeted events.
The event included a variety of activities ranging between entertainment and awareness competitions, storytelling, video about great orphans around the world in addition to the wish candle where children expressed their dreams and ambitions as a torch of light to their future.