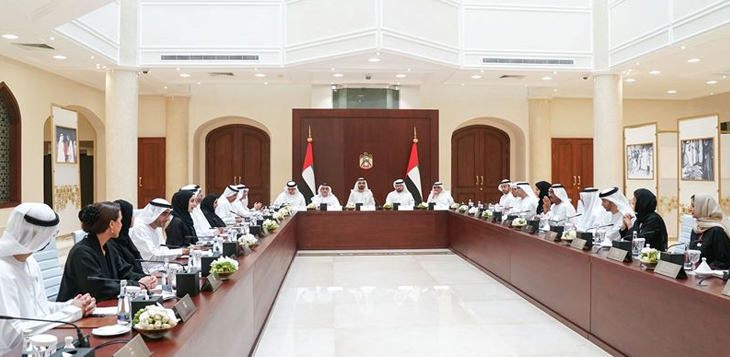 December 4, 2018

Tuesday, December 04, 2018

The UAE Cabinet adopted a new package of national legislative policies, and initiatives to empower Emirati women.

In a special session, held at the General Women's Union headquarters, chaired by His Highness Sheikh Mohammed bin Rashid Al Maktoum, Vice President, Prime Minister and Ruler of Dubai, the Cabinet approved the empowerment bundle in line with the directives of President His Highness Sheikh Khalifa bin Zayed Al Nahyan, to ensure that Emirati women are conducive partners in the UAE's development journey.

The new empowerment package is based on three principal axes: Legislation and Policy, Services, and International Representation, all of which include resources to support the advancement of Emirati women as active partners in local, regional and global arenas.

During the Cabinet session, Sheikh Mohammed bin Rashid praised H.H. Sheikha Fatima bint Mubarak, Chairwoman of the General Women's Union, President of the Supreme Council for Motherhood and Childhood, and Supreme Chairwoman of the Family Development Foundation. He said, "Sheikha Fatima bin Mubarak is an inspiring and exemplary model for all women in the UAE. Her Highness is always invested in enhancing the role of women and ensure their active participation in building the nation.

"Sheikh Fatima has carried on the legacy of the late Sheikh Zayed bin Sultan, who sought women's empowerment as a crucial element to the nation's development," His Highness continued, adding, "and now my Emirati sisters are reaping the benefits of Zayed's legacy."

"Today, we have adopted a well-rounded package of new policies and legislation favouring Emirati women's empowerment and leadership," the Dubai Ruler said. "Women constitute over half of society; they build the foundations of our renaissance whether in education, medicine or engineering. We must, therefore, enhance their dynamic role in both the UAE and global communities, across multiple sectors," Sheikh Mohammed affirmed.

His Highness said, "We are now embarking on a new phase in which we provide more tools to enhance women's leadership roles and representation in society across all fields on the local, regional and global scale. The new initiatives will see women's increased participating in diplomatic missions, as well as an increased representation in judicial and legal affairs."

The legislative and policies axis will seek to include more female participation in the UAE's judicial system as well as other leadership positions in business. It will also set legislative frameworks concerning domestic violence, as per UAE Cabinet decisions and the nation's human rights frameworks.

As for international representation, new policies will ensure the increased participation of female diplomatic missions and representatives of international organisations, including UN peace-keeping missions.

The Cabinet also agreed to set up a media hub that monitors and reports on the success of UAE women, led by the UAE Gender Balance Council, in cooperation with concerned national institutions.