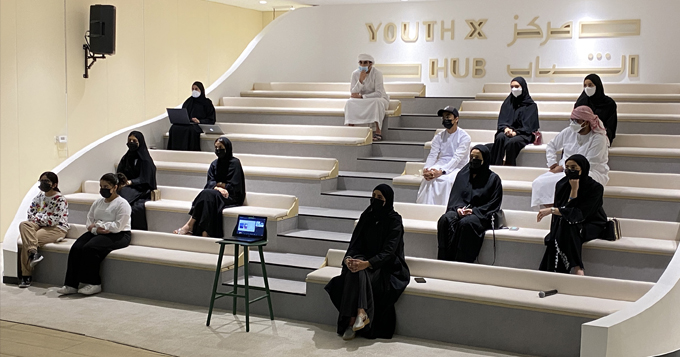 March 11, 2021

The Innovation Centre and Youth Council of Dubai Electricity and Water Authority (DEWA) organised a Clean Energy Roadshow to the Federal Youth Authority's youth hubs in Abu Dhabi, Dubai, Ajman, and Ras Al Khaimah. The roadshow promoted clean energy and its technologies and DEWA's key projects in this area including the Mohammed bin Rashid Al Maktoum Solar Park. The roadshow also focused on the best practices and experiences of DEWA's Youth Council, which promote the UAE's competitiveness in different areas.
"We are proud to partner with the Federal Youth Authority and all other organisations to achieve the directives of His Highness Sheikh Mohammed bin Rashid Al Maktoum, Vice President and Prime Minister of the UAE and Ruler of Dubai, to empower young people and encourage them to build the nation, and anticipate and shape the future. We affirm the importance of merging efforts to invest in young people and consolidate their roles in energy, achieve the objectives of sustainable development, and use research and the latest innovative technologies to achieve these directives. DEWA adopts an integrated strategy to empower and support young people, and engage them in different areas of national work. This stems from believing that today's youth are the leaders of the future and the cornerstone of ensuring a brighter future for generations to come," said HE Saeed Mohammed Al Tayer, MD & CEO of DEWA.
"Our participation in this roadshow is part of the Innovation Centre's efforts to strengthen and develop the capabilities of the next generation of innovators in clean energy technologies. We exchange knowledge, skills and experiences as well providing a unique experience to discover the latest innovations in clean energy technologies. We at the Innovation Centre know the effectiveness of young people in serving the nation. It is the first and largest government centre to receive the 'Done by Youth' seal from the Federal Youth Authority, developed by a team of young Emiratis," said Dr Aaesha Alnuaimi, Director of the Innovation Centre at DEWA
"DEWA's Youth Council provides several channels to enhance constructive communication between young employees and the senior management to deliver their suggestions and views, in addition to enhancing their positive participation in DEWA's excellence journey. The Council builds bridges of communication with youth councils all over the UAE to raise the awareness of youth on clean and renewable energy as well as sustainable development. These efforts have resulted in increasing the Youth Employees Happiness in 2020 towards the council's initiatives and activities to 94%," said Aysha Mohammad Alremeithi, Senior Engineer and the Council's President.