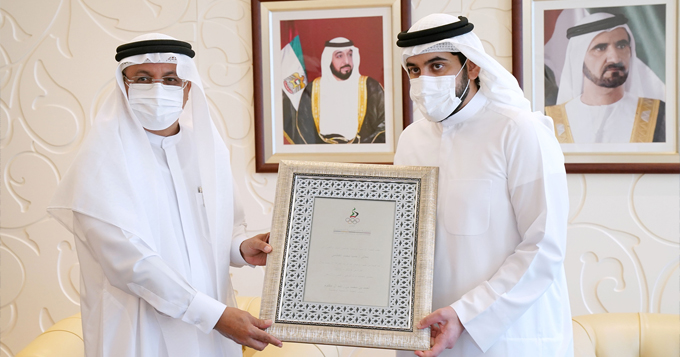 June 10, 2021

His Highness Sheikh Ahmed bin Mohammed bin Rashid Al Maktoum, President of the UAE National Olympic Committee (NOC), praised HE Humaid Al Qatami, former First Vice President of the NOC, for his contributions to the Olympic movement in the UAE.
His Highness commended Al Qatami for promoting the Olympic charter and values as well as steering the NOC's efforts to foster new sporting accomplishments in the UAE as part of the leadership's vision to create world champions in various sports.
Sheikh Ahmed bin Mohammed also praised Al Qatami's efforts to strengthen the Olympic movement and raise the UAE's stature in the international sporting arena. He highlighted Al Qatami's key leadership role in developing NOC-related laws and regulations.
His Highness also commended Al Qatami's efforts to promote sportsmanship and enhance women's participation in sports, adding that Al Qatami is a role model for future generations whose immense contributions to the NOC will be remembered forever.
Thanking His Highness for his gesture of appreciation, Al Qatami said that the UAE NOC, under the chairmanship of His Highness Sheikh Ahmed bin Mohammed, has taken many decisions to foster the development of local athletes and sportspersons. "I extend my utmost gratitude to His Highness Sheikh Ahmed bin Mohammed bin Rashid Al Maktoum, and to NOC's board members, The Executive Office and all the committees that I worked closely with during my tenure. During this period, I acquired extensive expertise in the field of sports and established several friendships with the NOC family locally and internationally that I will always treasure," Al Qatami said.