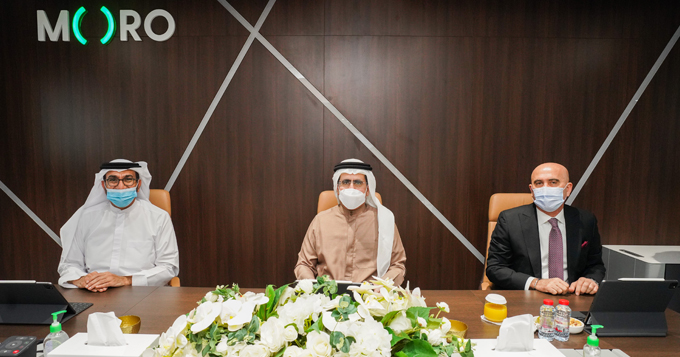 February 14, 2021

Moro Hub (Data Hub Integrated Solutions LLC), a subsidiary of Digital DEWA, the digital arm of Dubai Electricity and Water Authority (DEWA) in collaboration with Avaya, has partnered with Emirates NBD Bank to provide the bank with an omnichannel platform – Moro Connect.
Moro Connect, built on technology powered by Avaya OneCloud, is an all-in-one Cloud Communications solution for Contact Centre as a Service (CCaaS) that will drive the bank's profitability and competitiveness and improve agent desktop experiences through the integration of core systems.
To mark the strategic partnership, HE Saeed Mohammed Al Tayer – MD & CEO of DEWA welcomed a VIP delegation from Emirates NBD Bank, chaired by HE Hesham Abdulla Al Qassim - Vice Chairman and Managing Director at the Moro Hub premises. The delegation from Emirates NBD Bank included Abdulla Qassem - Group Chief Operating Officer, Miguel Rio Tinto - Group Chief Information Officer and Ibrahim Sowaidan - Senior Vice President, Head Group Corporate Affairs. In addition, Nidal Abou Ltaif, President, Avaya International, and Fadi Hani, VP for MEA & Tukey were also present during the visit. And The meeting was attended by Eng. Marwan Bin Haidar, Vice Chairman of Moro Hub (Data Hub Integrated Solutions), Matar Al Mehairi, Board member of Moro Hub, Mohammad Bin Sulaiman, CEO of Moro Hub, Dr. Ahmed Al Ketbi Chief Information Security Officer of DEWA and Moro Hub.
"Moro Hub operates in line with the vision and directives of HH Sheikh Mohammed bin Rashid Al Maktoum, Vice President and Prime Minister of the UAE and Ruler of Dubai to make the UAE, particularly Dubai, a leader in digital solutions. As a leading data hub, our key aim is to strengthen and streamline access to data, which is inline with Dubai 10X and UAE Centennial 2071 that positions the country as a global capital of advanced digital solutions," said HE Saeed Mohammed Al Tayer – MD & CEO of DEWA.
Moro Connect is a platform that delivers innovative unified communications and contact centre solutions and makes them available to enterprises through a cloud-based subscription model, enabling organisations to purchase the capacity and services they require without large upfront costs. "Emirates NBD Bank will benefit from greater flexibility, enabling it to respond quickly to changing business demands, improve customer experience, and manage costs more effectively. We are confident that the state-of-the-art technology will accelerate the bank closer to its business goals and help it in the implementation of the Dubai Vision 2021 to transform Dubai into the world's smartest and happiest city," added HE Saeed Mohammed Al Tayer.
The delegation from Emirates NBD Bank was briefed by Mohammad Bin Sulaiman, CEO of Moro Hub on the organisation's key services which include cloud hosting services, cybersecurity, digital solutions and services and managed and professional services. They also had a chance to view the state-of-the-art Smart Cities Command and Control Centre and its offered services.
Moro Connect will enhance the collaboration experience with the bank's stakeholders by empowering its workforce, engaging with its customers and exchanging legacy systems such as business phone systems, meeting services, and on-premise contact centre solutions with a fully integrated, end-to-end cloud communications platform.
"We are pleased to partner with Moro Hub to avail its advanced services. The partnership is a testament to the fact that businesses in the region seek innovative solutions to differentiate themselves in the digital landscape. As an organisation, Emirates NBD Bank has always strived to deliver exceptional, best in class customer service and through this partnership we are bringing this ambition to the next level, with a broader offering of digital channels, benchmark efficiency and a state of the art omnichannel platform" said HE Hesham Abdulla Al Qassim - Vice Chairman and Managing Director from Emirates NBD Bank.
Through the implementation of Moro Connect, Emirates NBD customers can resolve inquiries and issues through multiple communication methods such as chat, social, and self-service. It will also empower agents with context across all channels, enabling them to access critical customer data from multiple sources and view the full customer journey from one interface.
"At Avaya, we understand the requirements for accelerated digital transformation, and how critical it is for our customers to stay ahead. To enable this for Emirates NBD Bank, which Avaya has a long-standing strategic technology partnership with, we have partnered with Moro Hub to fulfil the bank's transformation needs. Moro Connect will give Emirates NBD Bank the flexibility and agility to scale its services, and provide a platform to adopt innovative solutions quickly. This will not only fast-track growth for the bank but also contribute to Dubai's vision of being the top city for digital solutions," said Nidal Abou-Ltaif, President, Avaya International.