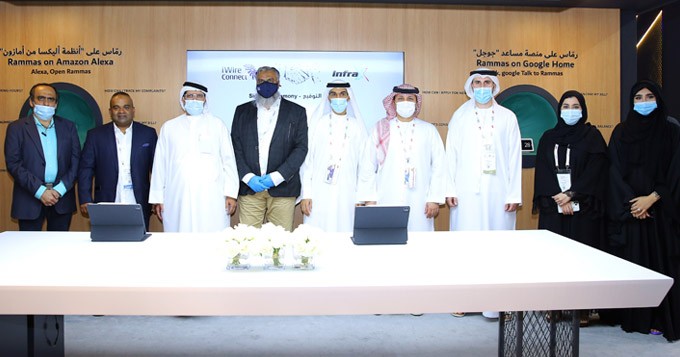 December 13, 2020

InfraX, a subsidiary of Digital DEWA, the digital arm of Dubai Electricity and Water Authority, as part of the Dubai 10X initiative, has signed a strategic partnership agreement with iWire to accelerate digital transformation and automation, develop low-power Internet of Things (IoT) connectivity and Sigfox solutions. The agreement utilises the infrastructure of InfraX and DEWA's substations.
Marwan Bin Haidar, Vice Chairman of Digital DEWA – Digital Sector, and Ahmed Fasih Akhtar, Founder & CEO of iWire signed the agreement, during the participation of DEWA and its subsidiaries at the 40th GITEX Technology Week.
"We are committed to achieving the vision and directives of the wise leadership to adopt the latest innovative solutions to advance government work. We work to achieve the future needs of the Fourth Industrial Revolution applications in line with the Smart Dubai initiative, which aims to make Dubai the smartest and happiest city in the world; and the Dubai 10X initiative to make Dubai's government services 10 years ahead of other global cities by adopting disruptive and innovative solutions," said Marwan Bin Haidar, Vice Chairman of Digital DEWA – Digital Sector.
The agreement will enable InfraX to utilise cost-effective connectivity for massive IoT devices and services. This will ensure secure and active connectivity among millions of devices in different environment and circumstances. It will also provide value-added services from data centres and cloud services to its customers.
"Our partnership with InfraX is strategic in nature, and our purpose is to provide innovative communication solutions built on Sigfox technology, to address the market demands of the UAE in the field of Internet of Things. Through our partnership with InfraX, we are confident, that we will be able to provide cutting-edge technology and immense business value to the government sector and enterprises in the UAE," said Akhtar.
DEWA is participating in GITEX 2020 at the Dubai World Trade Centre from 6 to 10 December. DEWA's stand is S2-D1 at Sheikh Saeed Hall.