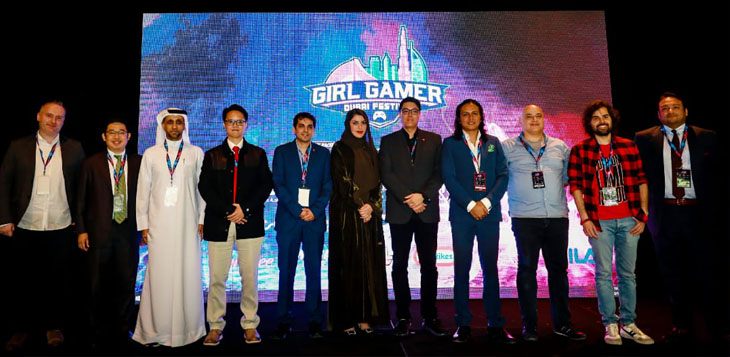 February 20, 2020

Festival is the biggest Esports and entertainment event to be hosted in Dubai; GIRLGAMER World Finals will be held during the Festival
Dubai 10X Media supports the Festival as part of its strategy to establish Dubai as a global hub for competitive esports events
Under the patronage of His Highness Sheikh Ahmed bin Mohammed bin Rashid Al Maktoum, Chairman of the Dubai Media Council, the GIRLGAMER Esports Festival, opened today at the Meydan Grandstand. Being held from 19-22 February, the Festival is the biggest esports and entertainment festival to be held in Dubai.
The world's leading event to celebrate and promote women's competitiveness in esports, the Festival will host the GIRLGAMER World Finals, apart from gaming, cosplay, concerts, activities and an industry conference. Organised by Galaxy Racer Esports, the Festival is supported by Dubai 10X Media, a subsidiary of the Government of Dubai Media Office (GDMO), as part of its strategy to drive the development of the region's esports industry and establish Dubai as a regional and global hub for competitive esports events.
Abdulla Al Mansoori, Team Leader of Dubai 10X Media said: "The hosting of the GIRLGAMER Esports Festival is aligned with the goal of the 10X Media project to transform Dubai's media industry with future-oriented projects. Esports represents the convergence of future streams in various sectors including media, content, sports and technology. The growth and increasing popularity of esports has been pushing the boundaries of what is possible in all these sectors, which makes it a perfect fit for GDMO's 10X media strategy."
"Hosting events like the GIRLGAMER Esports Festival not only further positions Dubai as a hub for the global eSports industry, but also engages the youth of the region to develop their capabilities in a sector that is being shaped by their innovation and enterprise. We see Esports creating a host of new opportunities for the development of talent, creativity, next-generation skills and entrepreneurship, all of which will be on show at this event," he added.
The opening day of the Festival saw the start of a two-day GIRLGAMER Industry Conference, featuring some of the most prominent personalities from the worlds of esports, gaming, media, and entertainment.
Lamia Khan, Director of Dubai Ladies Club, spoke to the audience at the Conference on women leadership. "The Girl Gamer Dubai Festival is a prime example of taking action and showing leadership to influence positive change in the area of gender balance and women's leadership, as well as challenging stereotypes and showing the world that girls can do anything," she said.
Participants at the Festival have challenged stereotypes and transformed an industry to be more inclusive of girls and women, she pointed out. Addressing girl gamers at the event, she said: "You have undoubtedly inspired young people to believe in themselves and the idea that they can pursue their goals. You girls are showing other young women around the world that anything is possible – no career is out of reach, no challenge is too difficult, and no goal is too unattainable."
From 20-22 February, the GIRLGAMER World Finals will offer Esports enthusiasts an opportunity to catch the world's best CS:GO and League of Legends gaming action. The Festival also features the Interschool Esports Tournament, taking place on 21 February. Scholarships totalling AED255,000 will be given out to winners of the tournament.
Fernando Pereira, President, Grow Up Esports said: "Having hosted events all over the world, to be able to bring the GIRLGAMER Esports Festival to this iconic entertainment destination is a dream come true. We are equally overwhelmed by the support of government bodies such as the Government of Dubai Media Office, Knowledge and Human Development Authority and Dubai Sports Council. This demonstrates their commitment to truly advancing the esports and gaming industry in the country, which is currently valued at over $150 billion US worldwide, while making Dubai a significant player both regionally and internationally. It is also monumental for us to introduce the UAE's first all-women team at this event, who will be competing with other countries at the World Finals. All of this is happening in our first year. We can't wait to bring you even more in our future editions."

Paul Roy, CEO, Galaxy Racer Esports said: "We are proud to present GIRLGAMER, the UAE's biggest Esports Festival, which is now scheduled to be a five-year festival. We invite everyone to join us on February 20 and 21 to enjoy a jam-packed line-up of exciting events and activities, such as the inaugural Interschool Esports Tournament, the first-ever L.O.L. Surprise! and Little Tikes event, alongside cosplay and video gaming competitions, unlimited deals on comics and collectibles, meet and greets with renowned experts, and a performance by rap superstar Gucci Mane. We are grateful for all the support we continue to receive from all our stakeholders and are committed to making sure this festival goes from strength to strength."

GIRLGAMER will welcome an incredible line-up of special guests, including Illustrator Naruse Chisato, Comic Book Illustrator Des Taylor, Voice Actress Kari Wahlgren, and Illustrator Shimadoriru, who will be meeting, greeting and interacting with fans on February 21st and 22nd.
GIRLGAMER Dubai's Cosplay Competition, with a prize pool of $5,000 sponsored by Go Gamers, is set to take place on 21 and 22 February, featuring international cosplay icon Alodia Gosiengfiao, leading local cosplay pioneer Saud Al Hazzani AKA Vega Cosplay, and talented, Middle Eastern, professional cosplayer Sumi Cosplay, as special-guest judges.
The GIRLGAMER Esports Festival features a range of exciting live events and activities. Global rap superstar Gucci Mane will headline the Main Stage with a live performance on the final day of the GIRLGAMER Esports Festival World Finals.
The world's largest private toy company, MGA Entertainment, is coming to Dubai for the very first time to host a L.O.L. Surprise! Fun Zone, featuring fashion shows, activities, games, and much more, and a Little Tikes Play Date at the Festival. MGA Entertainment will also be holding the Middle East launch of its brand-new line of toys, Na! Na! Na! Surprise, at the event.
Award-winning DJ and Producer Dany Neville, who has performed in the entertainment capitals of the world and collaborated with some of the biggest names in music, will perform live on 22 February. An all-star line-up of radio DJs, including Kris Fade, Priti Malik, Big Rossi, and Brent Black will be taking part in fun-filled activities and gaming battles with the hugely popular gamer, TV presenter and voiceover actor Ahmed Al Nasheet a.k.a. DVLZGame.