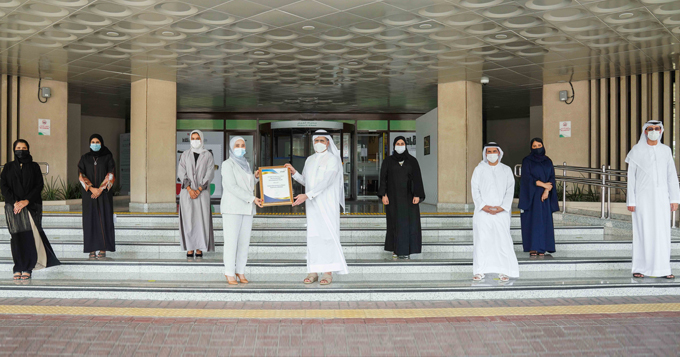 March 7, 2021

Dubai Electricity and Water Authority (DEWA) has received the Global Award highest from the European Foundation for Quality Management (EFQM) for the second time. DEWA continues to maintain its position in the Platinum category, which includes leading companies and institutions that promote excellence. This new accolade crowns DEWA's pioneering efforts and its record of accomplishment in excellence. DEWA is the first organisation outside Europe to receive this prestigious global award, which is the highest award from the EFQM Excellence Model.
Dedication
"We are honoured to dedicate this global achievement to the leader of excellence, His Highness Sheikh Mohammed bin Rashid Al Maktoum, Vice President and Prime Minister of the UAE and Ruler of Dubai. We are guided by the vision and directives of His Highness to continue DEWA's excellence across all areas. We consider excellence as a main pillar to achieve DEWA's vision to become a globally leading sustainable innovative corporation," said HE Saeed Mohammed Al Tayer, MD & CEO of DEWA.
Al Tayer commended the efforts of EFQM in developing the criteria for sustainable excellence and recognising companies and institutions that achieve outstanding levels of excellence.
"We are proud to receive the Global Award by the EFQM for the second time and to be the first organisation outside Europe to receive this prestigious award, surpassing prominent global organisations. The updated EFQM 2020 Excellence Model has helped us develop work mechanisms and implement the best international practices across all our operations despite the challenges of the COVID-19 pandemic. We have learned from our wise leadership to turn all challenges into promising opportunities. The EFQM Excellence Model aligns with our commitment to consolidate DEWA's pioneering position comprehensively. For us all at DEWA, excellence is a daily work programme that we implement according to specific and well-thought-out strategies and plans. All our staff carry out these plans in a positive work environment that raises individual and corporate efficiency. It also institutionalises a culture of excellence based on total quality management and sustainable excellence standards, to achieve the happiness of customers and society as a whole," added Al Tayer.
Commendation
"Not only does DEWA execute its core businesses with precision and enthusiasm, but it is one of the most innovative organisations in the UAE, if not the world. The speed with which they can turn ideas into solutions is outstanding and will be only enhanced by the opening of their Solar Park Innovation Centre. It is an unbelievable achievement to win the EFQM Global Award but to win it twice in 3 years is unique and highlights their continued passion to be the best utility organisation in the world," said Russell Longmuir, CEO of EFQM.
EFQM noted that DEWA is a world leading utility and the heart-beat of Dubai. It has continued to improve year or year delivering a significant digital transformation that improves every aspect of their customers experience. The EFQM jury and assessors were hugely impressed as the company continues to innovate and move into new areas which in turn generates more investment to create new products and services for their customers and other stakeholders
Excellence
Waleed Salman, Executive Vice President of Business Development and Excellence at DEWA, said that winning the highest EFQM award for the second time and from the first application underlines DEWA's global position in all areas of excellence. The achievement highlights DEWA's efforts in developing and implementing the highest excellence standards and practices across all its operations and activities. Salman noted that in 2019, EFQM selected DEWA, to be one of the organisations to test the EFQM Model 2020.