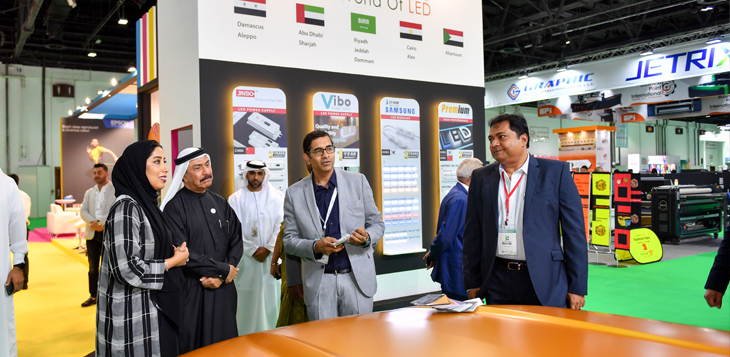 January 13, 2020

Her Excellency Mona Al Marri, Director General of the Government of Dubai Media Office (GDMO), today inaugurated the 23rd edition of the SGI Dubai Show, the Middle East's largest show for the printing and signage sector. The three-day event, which runs until 14 January at the Dubai World Trade Centre, features industry exhibitors from across the region and the world.
Set to attract thousands of visitors in the coming days, the show serves as a seamless eco-system for brands and innovative ideas. The show provides an ideal converging point for visitors and exhibitors to reach out to architects, sign makers, print and production manufacturers, media agencies, real-estate developers, and brand and image consultants, among others.
Her Excellency Al Marri toured the exhibition and was briefed on the various products exhibited by leading international brands. She said the printing and signage sector makes significant contributions to the growth of vital economic sectors both regionally and internationally. Al Marri said it is critical for the fast-growing industry to stay abreast of major changes happening in key sectors in order to sustain its growth. Dubai represents the ideal gateway for international companies in this sector to tap the region's markets, she added.
"As a financial and business hub, Dubai provides a wealth of opportunities for this sector to thrive. The government's large investments, especially in advanced infrastructure, along with the growth of big retail institutions and shopping centers, strongly support the development of the industry. Dubai's rise as a prominent knowledge and technology centre and its rising profile as a global business destination have attracted prestigious international brands and start-up companies in the sector. They have taken advantage of the emirate's fertile economic environment to expand their business," Her Excellency said.
Sharif Rahman, CEO, International Expo-Consults (IEC) said: "In the age of digital transformation and disruption, organisations that can keep up by adopting new technology and innovation are able to flourish rather than survive. SGI Dubai provides a unique opportunity to our visitors to be exposed to the latest that technology and industry has to offer and provides them with a chance to benefit from this first mover advantage. Apart from the Middle East, we expect visitors from parts of Africa, Asia and Europe. The geographical proximity of our show provides an accessible platform for the business owners to source top of the line machines with the latest technology."
A number of visionary brand leaders - both international and regional- are participating at SGI Dubai this year. These include Masonlite, Desert Sign Business Point International, QCW (Smart Triangles LLC), Flex Europa Heliozid, STARFLEX, Strings International, Al Shabak, ADS Advertising Materials LLC., ORAFOL Europe GMBH, Butterfly LED, Brother International, Graphic International (GIC), MAGIC TRADING CO. LLC, PRIME SIGN, among other global and local exhibitors.
According to reports, the MENA printing industry, estimated to be worth US$32 billion at the end of 2019, is expected to perform better than global markets with a growth of 6.2% per annum.
A Smithers Pira report estimates total market value of the sector to grow to $874 billion in 2024. Despite the fact that the global printing market is still in transition, it has the potential to add value to several vertical industries, the report said.