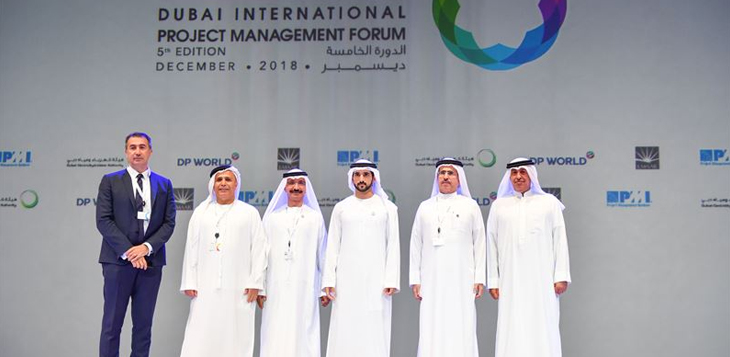 December 11, 2018

Tuesday, December 11, 2018

His Highness Sheikh Hamdan bin Mohammed bin Rashid Al Maktoum, Dubai Crown Prince and Chairman of the Executive Council, honored the winners of the Hamdan bin Mohammed Award for Innovation in Project Management (HBMA for Innovation in PM) at the closing ceremony of the 5th Dubai International Project Management Forum (DIPMF) which concluded today, Tuesday, 11th December 2018 at Madinat Jumeirah, Dubai.

The prize money of the Award has jumped by 29% to hit 2.6 m dirhams (US$710,000). Categories of the Award have also increased to four, following the addition of the Academic Category comprising two sub-awards: Scientific Research for Innovation in project management, and Innovation in project management. The second category (institutions) comprises three sub-awards: The Innovative PM Idea, The Innovative Programs Management Idea, and The Innovative Projects Portfolio Idea. The third category is individuals; which comprises two sub-awards: Innovative Project Manager, and Innovative PMO. The fourth category is the Innovative Team Award.

Winners of this year edition of the Award included Dr. Michael O'Connor for his works on Medical Device Regulation and European Diagnostic Device Regulation; Saudi Aramco; Implement Consulting Group; Emirates Aluminum; Nestle; Dr. Yvette Burton; and Yousef Qteit from Emirates Nuclear.

The Hamdan Bin Mohammed Award for Innovation in Project Management is a catalyst for innovation leaders, teams and ideas in various institutions. The Award serves as a benchmark for the best Project Management innovation practices and fosters innovation in projects enterprise system built on sound methodologies and individuals' innovations. Winners are selected on two criteria: innovation methodology used in the project and the impact of this innovation on project deliverables.