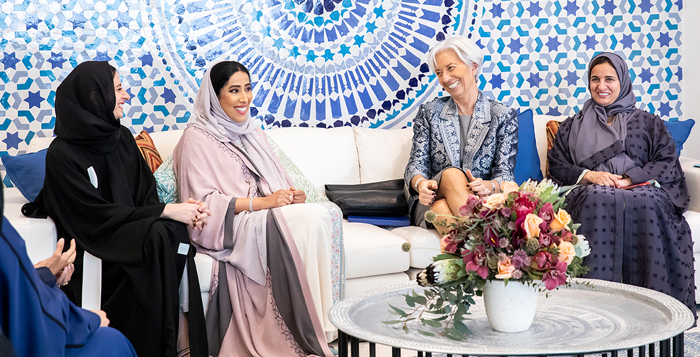 February 10, 2019

Manal bint Mohammed:
· Local entrepreneurship is vital to the UAE's national economy.
Mona Al Marri:
· The wide range of projects led by Emirati entrepreneurs across different fields is a source of pride for the UAE, given their important economic contribution.
The UAE Gender Balance Council hosted an official gathering in honour of The Honourable Christine Lagarde, Managing Director of the International Monetary Fund (IMF). Lagarde was given the opportunity to participate in an open dialogue with Emirati and UAE-based female entrepreneurs, and was introduced to their businesses across various sectors.
The gathering was also attended by H.E. Sheikha Lubna Al Qasimi, the former Minister of Tolerance; H.E. Hessa bint Essa Buhumaid, Minister of Community Development; H.E. Mariam bint Mohammed Saeed Hareb Al Mehairi, Minister of State for Food Security; H.E. Sara Al Amiri, Minister of State for Advanced Science; H.E. Mona Ghanem Al Marri, Vice President of the UAE Gender Balance Council; H.E. Huda Al Hashimi, Assistant Director General for Strategy and Innovation at the UAE Prime Minister's Office, along with several Emirati and UAE-based entrepreneurs and female leaders of philanthropic organizations.
Her Highness Sheikha Manal bint Mohammed bin Rashid Al Maktoum, wife of His Highness Sheikh Mansour bin Zayed Al Nahyan, Deputy Prime Minister and Minister of Presidential Affairs, welcomed Lagarde's visit to the UAE to attend the annual World Government Summit, which is held under the patronage of H.H. Sheikh Mohammed bin Rashid Al Maktoum, Vice President and Prime Minister of the UAE and Ruler of Dubai. Her Highness praised the prevalence of women in key positions across vital sectors in the UAE, as well as the supportive entrepreneurial environment provided by the nation's wise leadership that enables women to succeed. Her Highness stated that entrepreneurship is a vital resource for the national economy, and highlighted that the UAE has around 23,000 female entrepreneurs who own investments and projects worth approximately AED 50 billion. These investments span large-, small- and medium-sized enterprises across different sectors including trade, tourism, food and free-lance.
Significant contributions
The meeting began with an inspiring dialogue between the IMF Managing Director and the attendees. H.E Mona Al Marri expressed her pride in the significant contributions made by Emirati entrepreneurs in economic, humanitarian, and cultural fields. She also commended those leading initiatives that benefit various segments of society and promote the principles of tolerance, humanity, justice, peace and development on an international level. Al Marri noted that certain entrepreneurial projects, while providing monetary benefits for women, also play an important role in preserving the UAE's heritage and contribute to elevating the country's standing internationally. The Council's Vice President also praised Lagarde's efforts to support women around the world, stating that she is an exemplary and inspirational role model for both men and women.
Making a social and economic impact
Lagarde listened to the attending entrepreneurs speak of their success stories and the turning points in their careers, and also shared some of her own experience and significant milestones. The meeting included a presentation on Emirati women whose careers are dedicated to philanthropic work, such as H.E. Hessa Buhumaid, Minister of Community Development, who launched several initiatives that focus on education and economic stability for women of various age groups. For instance, the Ministry's 'Qelada' initiative bolsters the skills of People of Determination, offering them a steady income, while also enhancing their self-reliance and independence, thereby making a sustainable social and economic impact.
Lagarde was also informed of the work of Dr. Manal Taryam, CEO of Noor Dubai Foundation, who has contributed to changing the lives of millions who suffer from vision impairment around the world. Also highlighted were the accomplishments of Dr. Ashwaq Al Hashmi, Director of Omniyati Prosthetics Arts Center, who is a specialist in Ocular Prosthetics, making her the very first Emirati to reach her level of success in this highly specialized field; Assia Riccio, Founder of Evolvin' Women, which is an initiative that offers employment opportunities for women from developing nations in the UAE; and Sadaf Safi, who is greatly involved in the Fatima Bint Mohamed Bin Zayed Initiative, which is a development programme that employs Afghan women as carpet-weavers, thus providing them with access to a consistent income and social services.
The charitable, humanitarian and educational efforts of the Al Manal Humanitarian Initiative, which was launched by H.H. Sheikha Manal bint Mohammed bin Rashid Al Maktoum in 2013, were also discussed. Lamia Abdulaziz Khan, who is the Director of Dubai Ladies Club and currently heading the Initiative's efforts, gave a presentation on the Initiative and spoke of its various humanitarian projects and programmes undertaken over the past eight years - both in the UAE and abroad - which have made a significant difference in the lives of many. Other examples of national efforts that create employment opportunities for Emirati women were also presented, including 'Sougha', an initiative that focuses on the development of traditional crafts to preserve Emirati heritage.
At the conclusion of the meeting, H.E. Mona Al Marri thanked Christine Lagarde for accepting the Council's invitation, and for her inspiring conversation with the Emirati entrepreneurs. She also thanked the female government leaders and the entrepreneurs present, stating: " We will continue to achieve greatness as long as we have open dialogues with one another, and continue to work with others around the world – such as Madame Lagarde – who share our vision."