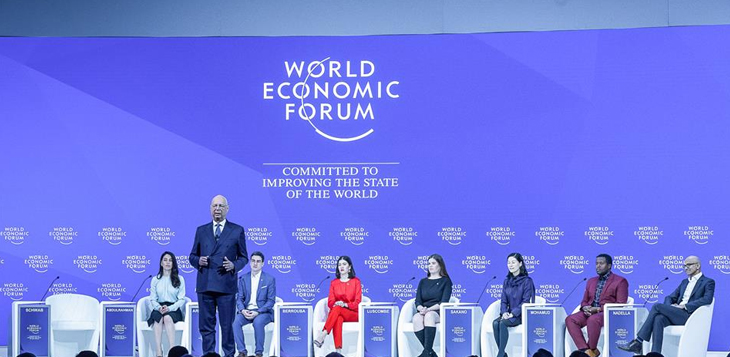 January 22, 2019

Tuesday, January 22, 2019

Crown Prince of Dubai and Chairman of Dubai Executive Council His Highness Sheikh Hamdan bin Mohammed bin Rashid Al Maktoum attended today the opening of the forty-ninth session of the World Economic Forum, which is being held in Davos, Switzerland, from 22nd to 25th January.

The theme of this year's edition is "Globalisation 4.0: Shaping a Global Architecture in the Age of the Fourth Industrial Revolution." President of the Swiss Confederation and Head of the Federal Department of Finance Ueli Maurer and Founder and Executive Chairman of the World Economic Forum Klaus Schwab delivered the event's keynote speeches.

Minister of Cabinet Affairs and The Future HE Mohammad bin Abdullah Al Gergawi and a number of senior officials attended the session along with Sheikh Hamdan.

In his special address, Ueli Maurer highlighted how Globalization 4.0, the Fourth Industrial Revolution, and our day-to-day lives are all influenced by the galloping pace of new technologies.

President Maurer called for an open discussion among world leaders to tackle issues related to the global economy and asserted that Switzerland is an open economy that welcomes free trade.

"The World Economic Forum has been one of the most important organisations we have and the Swiss government is proud of being the host country and helping the world leaders connect and network with each other", Maurer said. He also said dialogue should always be preferred over monologue and asserted Switzerland is an open economy which welcomes free trade as also open dialogue.

In an opening address, Klaus Schwab stressed issues around the theme of the Fourth Industrial Revolution.

He said "we want to be future-oriented, and not just absorbed by crisis management.

He added that "globalization is a fact but is distinct from globalism, the philosophy with which we promote globalization. The World Economic Forum has never stood for unfettered globalism. We feel that Globalization 4.0 has to be more human-centred, as well as more inclusive and sustainable".

He stressed the role of young social entrepreneurs and leaders in effecting this attitudinal change: "With half of the population below 27-years old, we have to listen to the young people."

He thanked those in attendance, saying, "we are here a true multi-stakeholder community. We have to listen to the young people and that is what we will do in this meeting."

UAE delegation is participating in 10 sessions of the WEF's agenda, focusing on global challenges related to quality of life, economy, advance sciences, space, artificial intelligence, environments and entrepreneurship.