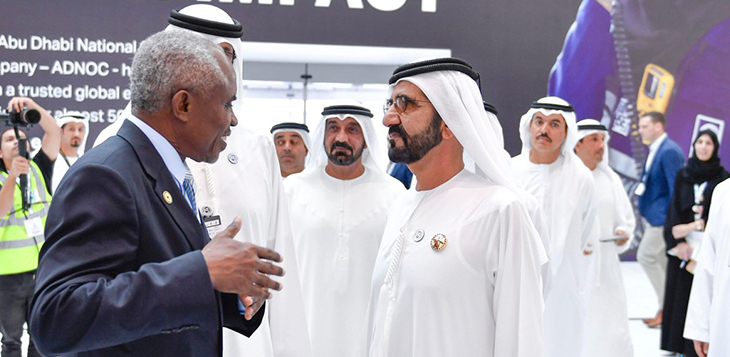 November 13, 2018

Tuesday,13 November 2018

Vice President, Prime Minister of the UAE and Ruler of Dubai, His Highness Sheikh Mohammed bin Rashid Al Maktoum, visited today the Abu Dhabi International Petroleum Exhibition and Conference (ADIPEC), which takes place at ADNEC in Abu Dhabi from 12-15 November.

Sheikh Mohammed toured the exhibition area accompanied by Chairman of Dubai Civil Aviation and Chief Executive of Emirates Group His Highness Sheikh Ahmed bin Saeed Al Maktoum. This year edition of the event attracted 2500 companies representing 67 countries.

Dr. Sultan Ahmed Al Jaber, UAE Minister of State and Group CEO of the Abu Dhabi National Oil Company, ADNOC, briefed His Highness about the exhibition and the companies and countries participating in this year's edition of the event. His Highness was given a whistle stop of the pavilion of Saudi Aramco, ADNCO and Total.

His Highness was accompanied by Director General of HH The Ruler's Court HE Mohammed Al Shaibani, Vice Chairman of the Dubai Supreme Council of Energy (DSCE), Saeed Mohammed Al Tayer, and Director- General of the Department of Protocol and Hospitality in Dubai Khalifa Saeed Sulaiman.