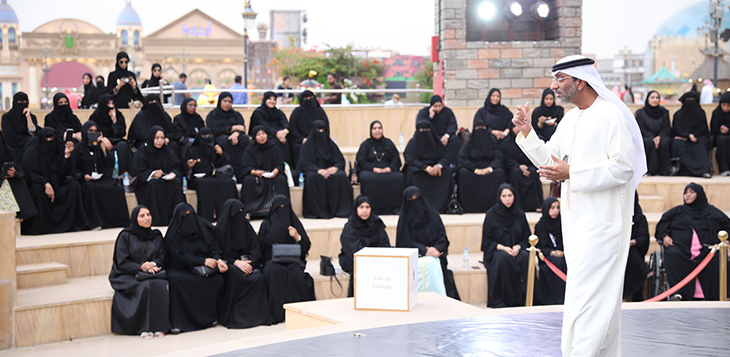 March 27, 2019

The Ministry of Community organized the first series of "Leadership & Success of UAE National Products" seminar to highlight the importance of UAE National Products and their developmental ideas as part of home and micro projects. The seminar also displayed successful stories of several UAE businessmen.
Held at the theatre of the global village, the seminar was attended by Nasser Ismail, Assistant Undersecretary for Community Care, Hessa Tahlak, Assistant Undersecretary for Community Development, Afra Buhumaid, Director of Productive Families Program Department at the Ministry, Fahd Al Khaja, Director of Commercial Affairs Operations at the Global Village. The session was moderated by Hamed Al Ali and participated by business leaders: Ibtihal Al NajiJassim Al Bastaki, Abeer Al Loaz and several productive families.
Nasser Ismail and Hessa Tahlak as well as the participants of the session visited "Al Sana" Pavilion in the Global Village which is organized for the 10th executive year, season 2018/2019, in support of the Global Village management and participation of (55) productive families. The Ministry was very keen to support and empower emirati productive families to participate in their financial stability.
Hessa Tahlak stated that the series of Leadership and Success of UAE National Products Ministry seminar is a sustainable development initiative of the Ministry in order to raise and upgrade emirati products, create competitive participation in a global marketing environment. The leadership series will continue in the forthcoming period and interactive sessions to highlight the successful stories of home and micro projects in support of emirati families.
She said: "Supporting emirati families is a priority task of the Ministry of Community Development to achieve family cohesion and community coherence in line with the directives of the UAE wise leadership to empower emirati families and support their stability. The Ministry is keen to collaborate and unite efforts with various partners to provide support for emirati families and achieve sustainable development".
The Ministry will also continue to raise and improve the products of emirati families' in order to achieve more competition considering that emirati productive families are an economic interface which reflect the efforts of the Ministry "a cohesive family…a coherent society" and enhance the quality of life for the UAE and nationals.
At the beginning of the session, Hamed Al Ali said: "The United States of America has the largest economy in the world with 38 million home projects generating $427 million US Dollars annually; 70% of the owners achieve success and continuity.
Ibtihal Al Naji said: "50% of the US economy is based on micro projects, therefore, entrepreneurs and UAE productive projects must benefit from the support of the UAE wise leadership and their funds to begin sustainable projects that would reflect the national economy positively. I recommend all entrepreneurs to select innovative and creative ideas and improve their skills with specialized diplomas".
In a presentation about foundations and potentials of entrepreneurship as well as the support of the UAE wise leadership to small and medium sized enterprises, Ibtihal highlighted successful stories in this sector and urged all entrepreneurs expand their communication with the community members and not to depend on one category only reassuring the importance of marketing for these products.
Jassem Al Bastaki, gave a short presentation about the quality of a successful entrepreneur and the fundamentals of successful small sized projects. In the same context, Abeer Al Loaz spoke about her arts project and its impact on societal services.
Furthermore, Afra Buhumaid, Director of Productive Families Department at the Ministry said: "Al Sana plays an important role in promoting the stability of families and supporting the UAE economy, giving participants the opportunities to find alternative success of income, provided that they exploit their skills and make greater efforts to develop their products rather than depending on traditional ideas. Al Sanaa Pavilion is one of the ministry's leading sustainable projects aimed at including: university students, social security beneficiaries and people of determination.
This year, Al Sana Pavilion includes displayed creative and innovative handicraft products such as: prints, children's garments, jalabiyas, abayas, perfumes, decorative pots, emirati spices, UAE honey, natural oils and desserts. All these porducts were produced to blend the past and present and satisfy all the shoppers desires and needs.
The Ministry of Community Development signed a cooperation agreement with the Global Village as part of its societal responsibility to support emirati productive families and assist them increase their income and achieve welfare for all its members.
It is noted that the number of registered emirati productive families in Al Sanaa Pavilion since its established in 2008 exceeded (2408) productive emirati families, it implemented more than (1343) exhibitions in the UAE with the participation of (5465) productive families. The Ministry of Community Development, in cooperation with its partners, organized (9) stalls in various emirates located at different sites and malls: Bin Souqat Mall, Aswaq Market in Al Warqaa, Dubai Free Zone, Sharaf DG in Ibn Battouta Mal, City Center, Time Square, Abu Dhabi Mall and Dubai Mall.
Al Sana pavilion is one of the sustainable projects of the Ministry of Community Development aimed at increasing the financial income and resources of emirati productive families, raising their skills and investing their talents in being leading entrepreneurs with innovative ideas.
The ministry is also very keen to support those families through organizing a number of leadership series, training workshops and programs in cooperation with several experts in this field.
The productive families department in the Ministry fully supervises the pavilion and highly encourages people of determination, younger generations who are registered inAnamel" initiative, more than one family member in one project.